I'm still curious about what else HarsinWhite 2011 has in mind for our Wildcat packages this season. The Jesus was dead on about having 2 different operators for those schemes (Shipley and Fozzy so far) and the scrimmage videos at MackBrown-texasfootball suggest that the zone-read is being utilized as a base blocking scheme for those packages.
Holgorsen's Diamond formation that OU stole at midseason and utilized while clubbing Gundy to the tune of 588 yards of offense is, a formation that reminds me of another wildly successful 3-back formation that OU borrowed in the past.
Similarly, if you watch some of the formations used by Oregon in last year's national championship you will also find a 3-back formation.
We know that Harsin likes to use the option in wildcat packages, that Texas is loaded with backs who could serve as dive-option or pitch-option backs, and several of these guys have managed option offenses in high school. Knowing that, I wouldn't be surprised if we ran a Wishboney look with Fozzy, Brown, and/or Monroe. But Bob Stoops might.
While we wait in anticipation to see what tricks are to be revealed by our coaches I thought it would be fun to relive the introduction of the Wishbone at Texas by Darrel K. Royal and Emory Bellard (who recently passed away) through the eyes of someone who was there.
Take it away OldTimeHorn:
The Advent of the Wishbone in College Ball
In the fall of '66 I was beginning my senior year in high school. On the college front, Texas was supposed to be "all that" in football again—based on much-ballyhooed soph QB Bill Bradley, and a resurgence was expected from the disappointing seasons that had followed the '63 national championship.
The school year started with me at buddy Joe's house (a Razorback nut, now cocking up my Facebook Wall with crap about the LHN) watching the Bradley-led 'Horns take on the highly-ranked USC. Teams were allowed a max of one nationally televised game a year back then, and this would be it for Texas—must-see TeeVee. Great game, and Bradley was a battler—who angrily shoved an SC lineman down on his ass one-handed, but SC walked away from our field with the win. The game mattered to me because I'd visited both Rice and Texas that summer trying to settle on a college. Even though I topped the scales at 138 if weighed before leaving the DQ parking lot and was usually capable of a sub-6.0 40, football was a passion. Don't laugh about Rice... they still had a year or two to go under Coach Neely, were respectable at the time, and former Owl QB Dr Frank Ryan was my favorite pro player.
We had just been introduced to the same 3A district as McKinney, against whom we managed like 30 yards of offense, and obviously no points. A 4A (big as it got back then) Fort Worth school managed only a TD against that defense, the only one they allowed all year in addition to 4 or 5 field goals yielded.
The Mckinney Lions breezed through the playoffs, as I predicted, and we all anticipated their thrashing of Bridge City for the state championship. Monday morning after the title game word rocketed around the school like a pregnancy rumor that some guy named Steve "Wooster" had scored FOUR touchdowns on the Lions, before sitting out the second half as his Cardinal teammates mopped up. And "Wooster" was headed to Texas! Well then, so was I. The sizzle would be in Austin.
We went to all the home and close away games together, varsity and freshmen. The varsity fared no better in '67, but the freshmen... they mauled everybody. Word had it MY class was the best Texas recruit class EVAH! what with 236-pound monster DE Bill Atessis—largest player on the whole team, plus Bill Zapalac, Danny Lester, QB Eddie Phillips, and Scott Henderson. There was even an honest-to-goodness in wide receiver Cotton Speyrer ... (what's Royal got up his sleeve now?) The class had also featured Julius Whittier, Texas's first black recruit (though you had to look really close to be sure) as well as two players from a Denver high school—Bobby Mitchell and Freddy Steinmark. Even kicker Happy Feller was highly regarded!
To beat the fall apartment hunt, buddy Sam and I came back to Austin mid-August and picked out an efficiency on Trinity across from what became Waterloo Park. Late the previous spring, I'd bought an MG Midget. Over the summer, Sam had earned enough for a Roadrunner, including the extra for the 426 Hemi engine option. We were set, and we were idling around town during summer workouts. There were few sources of info... Dave Campbell's Texas Football was just becoming well-established. There was also the Statesman and the summer version of the Daily Texan, plus the usual scuttlebutt around campus. I ran into walk-on buddy Stan a couple of times and he was excited about where things were heading.
Word began to filter out that we'd be running a whole new offense... that it was designed to make use of Steve Worster's quick-start skills at fullback... that it did this by moving the fullback right behind the quarterback (WHAT???)... that it had been conceived by Coach Bellard (bell-ARD—a fan fave and Royal heir apparent)... that it was based on a simple quarterback read that would lead to the FB diving into the line or, following another read, a QB keeper or a toss to the HB on the playside... that it was unstoppable because it always insured the offense had at least a man advantage at the point of attack... that it would leverage the speed of HB Chris Gilbert (who'd already reeled off two thousand-yard seasons) and the durability of legacy HB Ted Koy.
But this is all murky. This was not an all-at-once, glossy-brochure PR announcement. In both the press and on the field, it played out in dribs and drabs, week-by-week. The desire apparently came when Gene Stallings amped up the Aggie option attack and handled 'Bama in the prior Cotton Bowl. Just before the season started, the new look was billed as the "Y" or even "Homer's Triple" (after Homer Rice, then coaching the Cincy Bearcats, who'd implemented something similar in Texas HS ball). The name "Wishbone," often "Wishbone T," apparently cropped up just before the Tech game. Houston sportswriter Mickey Herskowitz takes credit, but other stories have it that after glancing at the diagram of the offensive set position, he said it looked like a "'pulley' bone." Royal is credited with refining that into "Wishbone," but, believe me, it was not like Royal to go around refining rusticisms.
Back then, school didn't get rolling until late September. Our first game was scheduled at Memorial against Houston (ranked 11th to our 4th) on the third Saturday. We were going to Tear. Them. Apart. Instead, Bradley threw twice as many interceptions as completions (2-9-4), and we were lucky to salvage a tie on a Q4 TD by Koy (another well-worn Royalism: "a tie is like kissing your sister"). We'd gained almost 300 yards rushing, but one less than Houston, and they could pass. What the hell is it with Royal? Is he just the biggest waster of talent ever? He may seriously need to consider stepping aside.
Okay, hell, we'll right the ship against Tech. Pile the Roadrunner full—our dates (not Jill) and another couple. Somewhere between Post and Slayton that afternoon, with everybody asleep and me driving, I destroy a thousand-dollar engine (about what a year of school cost) cruising at 140 (yes, young readers, those were the days!) Halftime of the game, and we are down 21-zip, and I want to throw up. Second half, it's announced James Street is replacing Bradley. Street!? Wasn't he recruited by Falk? Are we just tossing in the towel? To make matters intensely worse, Sam had lined us up with places to stay at some friends' frat, and so our little group had the joy of being the only Texas students at the raucous celebration of a Tech upset win (I still to this day automatically clench my fists when I see anyone flash downward "Horns").
This was just three years after the Tower shooter, and by no means do I wish to make light of that tragedy, but the mood on campus that week of the Tech loss was comparably somber. Indeed, the desire to get the onus of that earlier horrific event off of us intensified the expectations on the football team—C'mon guys! Show that we can bounce back. Show that we are winners. Show that we are better than that. There was a funk lingering three years over the Forty Acres before scraping bottom in Lubbock. Then, as now, there's no deodorant like playing top-drawer football.
The new offense came in for savage second-guessing, and the coaches right along with it. The slim silver lining that the team had come roaring back in the second half and looked for a while to make a game of it was not on people's minds. Nobody was looking to hang hopes on a 5'10, 165-pound unheard-of quarterback who hadn't even lettered the year before. Do you remember him playing even a down last season? Cuz I don't! Thanks to a connection to the service manager at the Dodge dealership out on N I35, the Roadrunner got towed back to Austin and a new hemi dropped in, all on someone else's warranty, so there was one bright spot. Oklahoma State shows up (not anyone we played regularly back then), and a nifty Street to Speyrer connection for 60 yards led to an expected win—Hey, maybe we'll be a passing team? This Street feller looks like he can really heave the ball.
Then it's road trip to Dallas and nail-biting as we're down 8 at halftime, but we claw back and win. Beating the GDMFSOB Sooners always feels good. Now comes the real test, with #9 Arkansas visiting. And. We. Crush. Them. We crush them with a running attack like nothing you've ever seen before. Turns out there's a big difference between watching the Wishbone purr and watching it sputter (some say the full option aspects didn't even get installed until this point in the season). You now had to watch intently. Can't tell you how many times my eyes followed Street down the line... pitchout! only no football. Eyes back to the center of the field where Worster would be breaking into the secondary. The reverse happened often as well—Worster mobbed and stopped for four--what the...? Koy's got the ball sprinting down the sideline. When it worked like that it was a thing of beauty, a thing of genius, a thing of utter bafflement. And it kept working right up through the Cotton Bowl where we embarrassed Hacksaw Reynolds and #8 Tennessee to end up finishing #3.
Did that capstone victory earn us any respect? No. We started the '69 season—the 100th year of college football—with a #4 ranking from the AP, following overwhelming #1 Ohio State (ever heard of Woody Hayes?), #2 Arkansas (Frank Broyles), #3 Penn State (the year Texans learned to start disliking Joe Paterno) and ahead of #5 USC (John McKay ). Yes, some legends were in the hunt that year. We'd graduated Chris Gilbert after he'd tacked on a third 1000-yard-plus rushing season, first collegiate player in the nation ever to do so, but we'd replaced him with some kid out of Wisconsin, Bertelsen (said he preferred to play in a warm-weather state), who'd acquitted himself pretty good on the frosh team, we heard. I don't remember whether it was after we chewed up 523 ground yards against Navy or 611 against SMU or 517 against TCU, but somewhere in mid-season Sam pulled out the detailed box scores and calculated that Texas's second-string offense ranked as the #2 offense in the nation in total yards gained. Ponder that. Royal, being a Woody Hayes devotee, always liked to characterize his style of football as "three yards and a cloud of dust." We students took to calling the Wishbone "ten yards and a cloud of Astroturf." Meanwhile, we'd vaulted up to second in the AP thanks to our lopsided victories. The Buckeyes were winning lopsided too, that is, until late November when they ran into a fired-up #12 Michigan squad and tumbled 24-12. Neither team scored a point in the second half.
All season, among sports announcers and sports writers, it was "Wishbone this" and "Wishbone that." The ABC crew went on about how their camera crew had voted James Street the most difficult quarterback to track of all time and by a good margin (watching the 'Horns on TV those years would always be zig and zag in the camerawork department). "Why aren't other teams copying the Burnt Orange?" "Can anyone ever stop UT?" Longhorn fans enjoyed the notoriety and had long-since bonded with the 'Bone.
But the Texas-Arkansas game really brought the national spotlight—the audience was huge, unprecedented. Everybody in the country wanted to see this Wishbone thing. Texas had settled at #1, the Razorbacks at #2. ABC finagled and the game got moved back to the first week of December, and, if I recall correctly, special dispensation had to be conjured up to allow the two teams to each enjoy a second nationally-televised game (or did they rig up a two-state broadcast of Slippery Rock vs. Shippensburg as the other "regional action"?)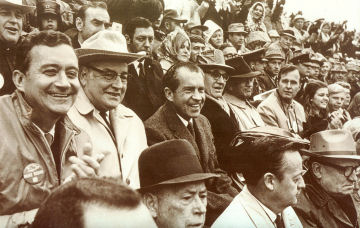 Football fan and new president Richard Nixon flew in by helicopter to attend and present the national championship plaque (UPI awarded based on regular season back then). Also at the Big Shootout, Colonel Sanders was in full KFC regalia, as was a young, later-to-be-president Bill Clinton. Both squads were all-white, the last time that happened. Pretty soon, even Bear Bryant was imploring the Alabama state legislature to let him have some African-American running backs after black USC tailbacks pinned six TDs on him.
James Street fueled the Texas comeback victory with this 42 yard TD run in the first play of the 4th quarter, bringing the Horns within six after a successful two point conversion. The rest is history, forever known in Longhorn folklore as "53 Veer Pass -- Street to Peschel", a 44 yard pass on 4th & 3 that put the Horns in place for the game winning touchdown.
The streets and clubs of Austin were wild that night in jubilation. Undefeated Penn State's players had already wussed and voted to accept the Orange Bowl bid rather than play in the Cotton Bowl against whoever emerged as #1, and so they were dinged in the AP's #1 consideration (not that it would stop Paterno from whining like a bitch).
Dispatching Notre Dame in the Cotton Bowl was an afterthought... that year, anyway. I was at the game; don't remember a thing even though it was history-making—Notre Dame's first-ever bowl appearance (Ara Parseghian had had to convince the administration to lift its self-imposed ban, the last major program to do so). The following year, the last year for MY class, after our second undefeated season, I watched Texas play Notre Dame again in the Cotton Bowl (this time on TV). Would it be back-to-back national championships (I mean "for real," not the UPI we'd already got)? Texas came down the ramp looking loose, jocular. The Irish came down the ramp with game faces. I knew right then that our nation's-best 30-game win streak was over.
The Wishbone was still chugging the following season, but consecutive losses to Oklahoma and Arkansas capped off by an el foldo against Penn State in the Cotton Bowl (giving them a measure of sweet revenge for '69), made '71 a less-than-memorable year of football. Worse, Royal started giving the Wishbone away. First Bear Bryant then Barry Switzer showed up to learn its intricacies direct from Royal. What the hell!? Well, whaddaya expect? Royal's from goddamn Oklahoma. Traitor!
The topper was Bellard taking the Stallings vacancy at Aggieland (where, thankfully, he promptly floundered—hey, maybe we dodged a bullet!) The Wishbone was out of fan favor and steadily out of our offensive planning too. The next two seasons, the Sooners slapped us silly with our own system, then beat us handily twice more before we eked out a 6-6 tie in Royal's last year. It was bitter, galling, to watch Switzer dominate college ball with our offense. Teams soon learned to defense the 'Bone, provided they had the talent. But it hung around. I seem to recall Air Force getting up near the top of the rankings with it in the mid or late 80s.
I've heard some say the 85-scholarship limit the NCAA voted in back in the early 90s was the death of the Wishbone—no more stockpiling running backs. For many of us in Austin, the steam had leaked out twenty years earlier. But we reeled off 30 straight victories at a time when we thought we were looking at the End of Days, football-wise, with a team that 1) had no quarterback, 2) was trying to learn an entirely new scheme and 3) had most of its talent in its youngest class.
-------
Hell of a read, Oldtimehorn. Hopefully 2011 year harkens back to '67-70 in the results department.
Miami answered some of the better 80's OU wishbone teams with the "Miami 4-3 Over" defense that is credited with introducing speed as the primary require of a defense and basically ending the reign of the triple-option in football.
Of course here we still have SEC teams utilizing the spread-option to win championships, Oklahoma is still making hay with stolen property, and humans are still dying and paying taxes.