The offenses Diaz faced in the SEC were generally running-oriented and one of our biggest questions for him heading into the season is how he would handle the way Big 12 coordinators fling the ball around. What does a Diaz defense look like vs. the Air Raid? Or the Holgorsen adaptation? While the spread has made a stake in SEC country, it's usually been in the Meyer/Malzahn spread-option/spread-to-run vein.
Diaz's Fire Zone defenses are a simplified college version of what Dick Lebeau and Rex Ryan have been doing in the NFL to it's pro-style, running/play-action offenses. It's excellent for blowing up running games with 8 man fronts and TFLs while being safe against the play action pass. But the question was whether he could mimic something like what Rob Ryan did against the Patriots on Sunday and disrupt the modern passing game.
Well, Oklahoma State came out in a 4 Wide receiver set and we met them with this:
Press man-coverage on the outside receivers with Christian Scott and Kenny Vaccaro on the inside receivers. We played our normal DL, Okafor and Jeffcoat in 9-tech stances with Randall shaded over the center, minus a second tackle. Acho and Robinson played linebacker but in reality Acho was a standup 3-tech defensive tackle who blitzed almost every play. On this play OSU motioned out their tailback and Robinson followed him, leaving us with 4 defenders in the box and in an obvious man coverage.
I'm guessing that Diaz watched some tape of the Big 12 teams, the Aggy-OSU game and our own RRS in particular, then looked up at his "Stop the run, hit the quarterback!" bumper sticker plastered over a frame of Chris White tackling Cam Newton, sighed, invited Akina into his office and started drawing up some plays.
The bubble screen is basically a running play in this conference and OSU has demonstrated that it's more than a constraint in their offense, but most coaches don't treat it that way. Diaz did, so he schemed to take it away. Our game plan went like this:
- Match OSU's offensive strength with our own personnel. Diaz identified the passing game, particularly the quick game and screens, as their main strength. We played a ton of dime defense in this game and lined up predominantly as we did in the frame above. Diaz gave a huge middle finger to the OSU Zone running game with our alignments and gameplan and we nearly got away with it.
- Man Defense. We played a lot more of the Cover 5 that we showed some against OU with a few key differences. For one, Weeden and the OSU receivers could not beat us downfield like the Landry Jones and the Sooners could and we assumed that from the beginning. Blackmon is their one true deep threat and we handled that with Carrington Byndom. Our safeties, while playing as Cover 2 safeties, were clearly instructed to be very aggressive against the OSU short game, even at the risk of leaving Diggs or Byndom on an island against a fade route.
On the first play (from the frame above) they motioned their RB out and Robinson tailed him before immediately setting up a tunnel screen.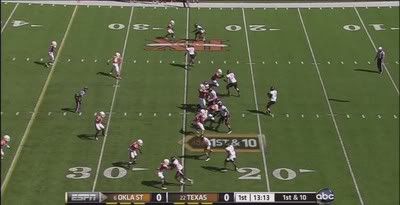 As the inside receiver heads out to block the corner, Phillips immediately diagnoses the play as the tunnel screen and responds before Weeden is even ready to deliver the ball.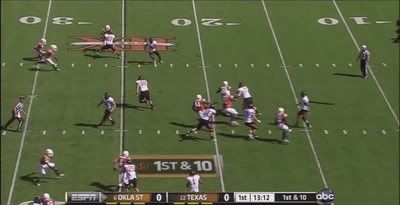 Here we see him screaming downhill on the play and likely to reach the receiver not much later than the pass does.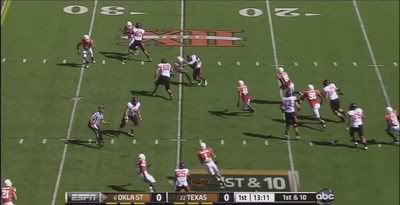 This proves to be the case and OSU gets zero gain on the play. On second down they attempted a quick out to Cooper against the other side of the formation.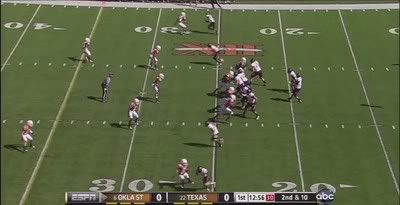 There are a few interesting factors at play here. One is that we have Gideon and Scott to the same side of our formation while Phillips and Vaccaro are teamed on the other. Against a spread offense that will pick apart your weaknesses relentlessly, I'm not sure why you would concentrate your slowest defenders like that. Another issue is that we have them on the same side as Cooper, who is probably the Cowboys' best underneath receiver besides Blackmon. Finally, I'm not sure if we get that much more out of Scott than we would from Hicks playing the same role. Scott's positive attributes, his physicality and experience, aren't as stark when compared to Hicks as opposed to a freshman corner in that position. On the other hand, it was a good way to employ Scott.
On the quick out in the play, Cooper gets separation from Scott fairly easily and would continue to do so the entire game.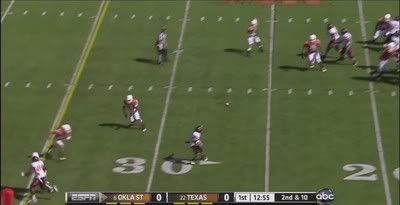 As it turns out here, the pass is dropped and Cooper did minimal damage against this coverage catching 6 balls for 57 yards (37 on one play) for the day. Only five yards off the line, and after already bobbling the pass, Gideon arrives to land a shot.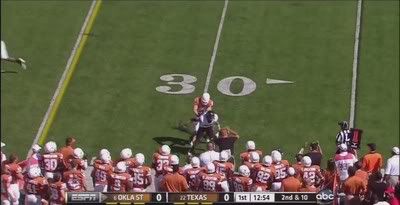 Gideon played a solid game on the whole, making 6 hard-hitting tackles and playing with physicality and aggressiveness against the running game and underneath routes. Neither of the 2 long running touchdowns were really his fault, but we'll address that soon.
I suspect that OSU was completely unused to a team treating their screens and underneath game as the primary threat. Last year they ruined teams with their vertical passing game and zone runs with Kendall Hunter and mastered the 3-step drops and screens as constraints. I'm sure Deruyter was bewildered when taking away their running game and bracketing Blackmon failed to prevent their explosive output in the 2nd half of their game.
In the following series, the Cowboys tried to punish our aggressive safety play with a few fades to Blackmon and found that what used to be their strength couldn't get the job done.
They had just completed an out to Blackmon against tight coverage followed by a post to Anyiam that was punished by a hit from Gideon and then wanted to pick on our sophomore corner with their 1st round pick.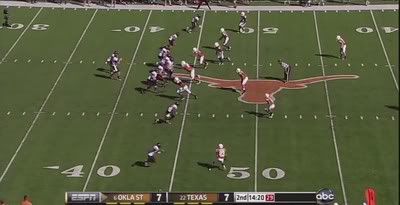 Because of our pass rush (on this play anyway), Weeden is locked in on Blackmon early.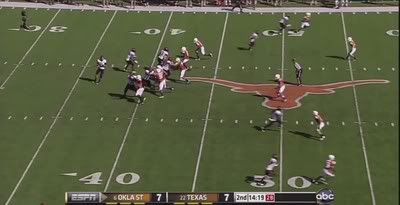 In frame 2 we can see that we're in a Fire Zone and Byndom is a deep 1/3 defender. All our "hot" defenders are keeping the OSU receivers in front of them before breaking on the ball, which isn't always the case, but our deep 1/3 defenders will always play over the top. Weeden decides that he trusts Blackmon to go up and make a play, or he has no idea what's going on around him. Whatever the case...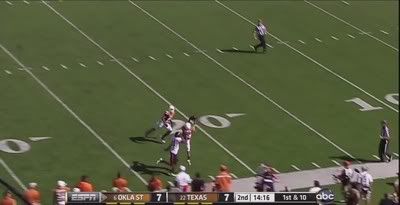 he throws a pick to Byndom that is robbed by official review. To me it looked like Byndom's legs bounced and moved in such a way that you would have to determine that his right foot did in fact touch down on the turf before he fell on his stomach and he clearly had the ball controlled when the foot hit the ground.
My lead image is taken from Weeden's expression after this play, complete befuddlement, but they decide to attempt the same play again, perhaps confident that they won't get another Cover-3 Fire Zone.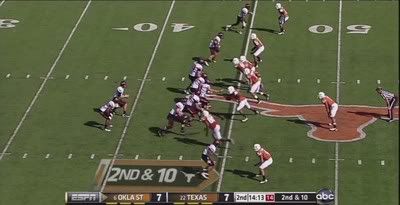 Gideon drops into the box before the snap and initiates another blitz. While this isn't alarming in and of itself, it might have clued the Cowboys in that another fade to Blackmon would be running into deep defenders.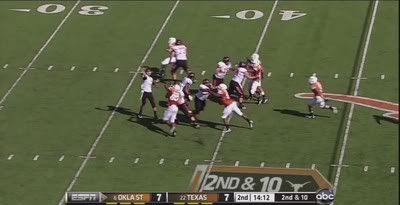 We can see here that it's too late and Weeden is keyed in on Blackmon with zero time to pursue other options with Okafor in his face.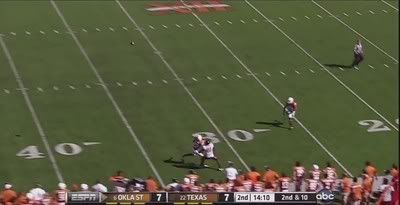 It turns out that we were in Man Coverage, Cover 1 to be exact, and Byndom was responsible for defending the middle of the field against Blackmon in addition to the sideline routes. Blackmon made a double move to get outside but Byndom recovered and got his hands on the ball again before Blackmon knocked it loose.
Yet another Cover 1 blitz followed and Weeden misfired trying to find Blackmon on a post. While they managed to score 21 going into halftime, Weeden was having tremendous difficulty attacking our coverages with Byndom blanketing Blackmon and basically 4 safeties playing against their underneath game.
The final component of our game plan was to get pressure primarily with 4 pass rushers and then situationally with big blitzes or Fire Zones. It turned out that our only effective edge blitzers in the game were Phillips and Vaccaro as Gideon or Scott blitzes were generally stonewalled. Acho had 2 QB pressures and another 2 TFL playing a LB/DT hybrid-position that I think Diaz may have invented for him.
Superficial fans look at the lack of sacks and fail to recognize that we had Weeden throwing out of 3 day drops all day and only completing 56% of his passes. He's hitting 76% on the year and hit 78% vs. A&M, so he's demonstrated that he can shred teams doing this. They've been getting 8.6 yards per pass attempt on the year and we held them to 5.3 yards per attempt.
Superficial fans have also looked at our run defense at times this year and called for "more Edmond!" while ignoring what Acho and Robinson have done this season. We've just seen what Acho was asked to do in this game and his success, Robinson's assignment often required him to either defend 2 gaps in the running game or to play man coverage against the OSU running backs. In other words, "Robinson, try to make sure their running backs don't beat us in any phase of the game."
I believe that in OU's scheme Keenan Robinson could play Travis Lewis' role possibly better than Lewis himself. Against the Cowboys: he held their backs to 21 yards on 3 receptions, had 9 tackles all over the field, and led the Longhorn defense in giving up 212 rushing yards.
That last stat is the reason Edmond gets calls for playing time. However, this overlooks the impact a LB crew of Hicks and Edmond could accomplish next season compared to what Acho-Robinson offers us this year. Can either stunt and blitz like Acho? Can either play coverage like Robinson?
Maybe Edmond can be a LB/DT in dime and Hicks can handle Robinson's role or Hicks can stunt and Edmond can try and be run-game eraser/RB defender but I will be pleasantly surprised if our coverage isn't downgraded somewhat at linebacker next season.
Back to the gameplan. Ultimately OSU stayed ahead of us due to 3 mistakes on our part and then won the game on a play in which they finally figured out how to make us pay for attacking the short game with our safeties.
The obvious mistake was the kickoff return TD. Handing an offense like that 7 points was possibly our most egregious error.
The other two occurred near the goal line. In our first example, we line up in a 3-4 look and Acho and Robinson dance around and stunt at the line for an eternity before Weeden has decided how he will take advantage of their obvious blitz.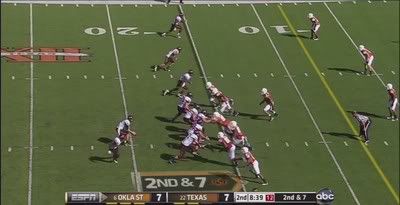 The blitz comes and we have soft coverage on their receivers hoping to force a useless short throw, get to Weeden, or get a turnover.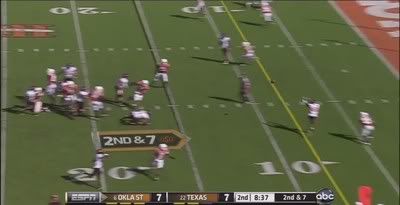 However, as a result of bringing so much pressure we've left Byndom on an island against Blackmon that spans half the field. They complete the post route and Blackmon uses his man-strength to drag Byndom into the end zone.
Next we get a short yardage situation nearing the red zone. They try and power in with Inside Zone but Gideon filled and prevented a first down, but they bet against us making that play a second time and make the call again.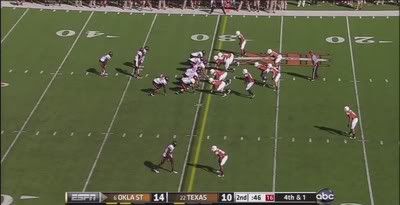 They line up in a heavy set and we load up the box to meet them as safely as we feel we can without leaving Byndom entirely alone against Blackmon again.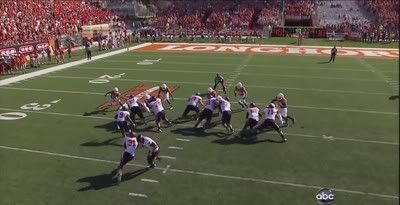 Much like we saw in my Rice game stills, Hicks drifts outside to gaps that are already filled by stunting DL and leaves a large gap up the middle.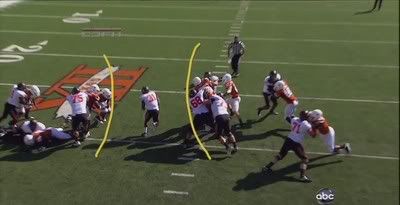 Gideon is the only one with a chance in pursuit and he's obstructed by Robinson's blocked body. Immediately on the sideline Diaz meets Hicks and makes clear who was in error on this play.
After all that we still had a chance at victory, until they found a way to finally punish our aggressive safety play and unleashed this play call: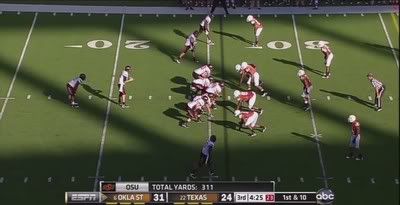 Hicks is in for Acho as the stunting linebacker/3-tech with Vaccaro and Scott in their usual places over the slot receivers. OSU is in the pistol formation.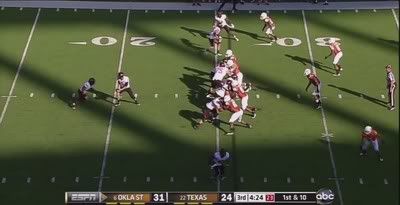 It's an inside zone call with Randall getting doubled and the left guard and left tackle sealing off Hicks and Jeffcoat in their normal pass-pursuits, which will not be productive to stopping the zone run. The successful doubling of Randall guaranteed a positive run but it's likely that he was anticipating a pass. Robinson is the only one with a chance to blow up the hole in the left A gap unless someone comes off a block.
All of that is really mostly irrelevant though. By using the 3-2-6 dime front we surrendered some gains in the running game and OSU had declined to take them because they knew that we could prevent scores from the running game by getting TFL with our blitzes. What made this play so important was the play of the wide receivers. The outside receivers to either side are looking for the tunnel screen pass while the inside receivers are running outside as though to block the corners.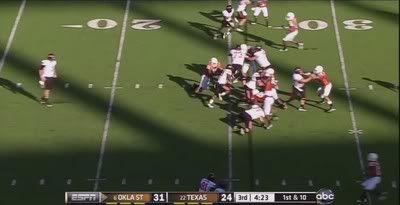 In order to have an impact against the OSU screens and short game our Safeties have been attacking based on reads of the wide receivers, Robinson is now the primary obstacle to a big gashing run up the middle and rather than aggressively filling the gap he's allowed the center to reach him and tries to fend off the OL.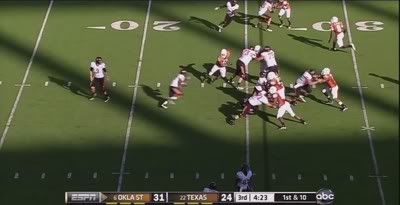 Some of our defensive backs are still unaware that the play will not actually be a wide receiver screen and Robinson has effectively been sealed off from the running lane. Unless he can get around the block or Jeffcoat can make a diving play there will be an enormous hole in the middle of the defense.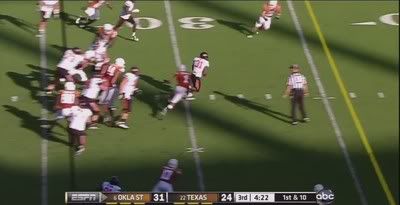 Neither of those dreams materialize and Gideon is only now turning his hips to attempt to run down the back. Check out the following angle of the enormous hole opened up: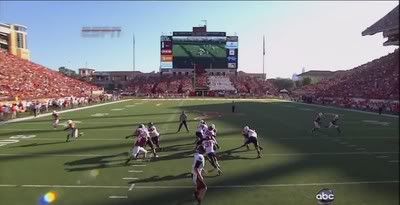 From here you can see the enormous gap in the run defense AND how hard our safeties bit on the WR screen action. There is no one on the field with a reasonable chance at catching the running back. You can attempt to blame Gideon's athleticism if you like but neither Vaccaro nor Phillips came any closer and I doubt Earl Thomas could have made the tackle from that angle.
The reality is that OSU found a way to punish us for playing that scheme on them all day and they possess an offense that can stress a defense a several different ways. Bob Stoops is probably cursing us for forcing them to find answers for that attack plan in the misdirection game but the answers were there.
It's interesting that both Muschamp and Diaz came to Austin and ended up employing more man-coverage schemes than they had at previous stops. I suspect this is in part due to Akina's prowess in teaching man-coverage and also in the difficulty in teaching zone and employing it effectively enough to handle Big 12 offenses with young defensive backs. Ultimately schemes like Cover 5 or Muschamp's Cover- man are brutal for Big 12 passing games but they require turnovers and big plays from the safeties and excellent DL play to get the same kind of turnovers that a zone can offer.
Diaz has now demonstrated that he knows how to take advantage of the man-coverage Corner factory here, that he understands the importance of taking away the quick game and the screen game, and that he can create pressures in nickel and dime defenses.
Those are really the most important tests for a Texas defensive coordinator facing today's Big 12. The fact that he also has an great resume for blowing up downhill and spread running games doesn't hurt either.
Other quick notes:
-Todd McShay tweeted that he was "underwhelmed" by Kheeston Randall's game tape while reviewing defensive tackles in the draft class. Given that Todd McShay thought Gerald McCoy was a better DT prospect than Ndamukong Suh I'm inclined to dismiss this.
Randall does need to demonstrate some pass-rush acumen since most teams would be looking at him as a 3-4 end or 3-tech defensive tackle and he hasn't wowed as a pass-rusher. Pass-rush is what garners the big bucks in the NFL today. However, his ability to fight double teams shouldn't be overlooked. I think he could even play nose-tackle in a 1-gap pressure scheme.
- Getting 2 more years from Byndom is starting to look more and more unlikely. He's been beaten on a deep route by Kenny Stills, in which he bit on a pump fake, and he was beaten once by Blackmon while on a lonely island and only gave up 74 yards on 7 receptions from the best receiver in the league.
If we weren't cranking out NFL corners so regularly this might be a major concern since 2013 is looking pretty good for us. I'm pretty confident that Diggs, Phillips, Turner and whomever else will be premier shape by then though so we should be okay.
- David Ash undoubtedly learned some valuable lessons saturday. He handled a dumbed-down version of the Colt McCoy offense at times and proved he has the necessary athleticism to keep himself upright and dangerous in the spread sets despite our weak pass-protection.
I'm not sure what his ceiling is as far as accuracy and reading defenses but I suspect that by 2013 Ash to Shipley and Davis might be comparable to what OU or OSU is doing right now in their passing games, which is championship level offense. Except, we'll also have a power running game and possibly both Jonathan Gray and Malcolm Brown.