It is entirely possible that information in this article will be hopelessly outdated before you read it. Sorry in advance.
Off seasons are kind of the same, regardless of the sport. Supporters and fans imagine massively expensive, unrealistic signings (Arsenal will sign Karim Benzema!!!! Seriously!!!!), while managers spin like crazy (Carlos Vela is back from injury!!!! It's like a new signing!!!!) and rich clubs jockey to unsettle talented players who are under contract with smaller clubs (Piss off Barcelona and Man City). Also, it's a bad time to be a fan of any but the richest clubs in the world – you mostly just hope not to lose the best of your young players and that maybe you'll poach a good undiscovered talent from somewhere, even though you'll only have the player for a couple of years at best.
This is the life of an Arsenal fan.
In case you missed last season, Arsenal started off like a house on fire then struggled with some injuries, then lost important games against physical teams that beat the hell out of them, then failed entirely to show up for important late season fixtures against the big clubs. You know, kind of like the year before last. And the year before that. Despite all of this, Arsene Wenger continues to look only for undersized Gallic talent, and continues to claim that the team is very close to success. This is all becoming as frustrating as watching Greg Davis call plays used to be.
I cannot adequately diagnose and explain all of the Arsenal's problems. I can only tell you that tactically the game seems to have passed Wenger by and that you cannot rely on undersized finesse playmakers alone unless you are rich/lucky enough to have Xavi, Iniesta, and Messi in the same midfield, with David Villa in front of them. A poor man's version with Nasri, Fabregas, and Wilshere ain't going to cut it. Moreover, The Barca trio is capably backboned by the ironically spineless Sergio Busquets, the playfully coifed Carlos Puyol, and the imperious Gerard Pique. Whereas Arsenal has the occasionally brilliant Alex Song, the frequently mis-stepping Koscielny, the always injured Johan Djorou, and the completely incompetent Squillaci, a regular dog and pony show gifted mostly at gifting goals to Stoke City. Not a legitimate ballwinner in the group, even with Thomas Vermaelen returning this year.
Moreover, you cannot win games trophies when you consistently give up goals on set pieces and do not have a forward who can head the ball or an outside wing-back who can cross it. Or even when you take the one striker you have who arguably CAN head the ball, and then you inexplicably put him outside, wide right (Seriously, Bendtner??).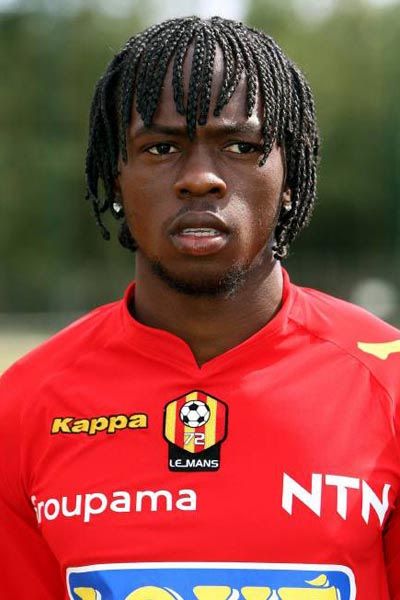 Gervinho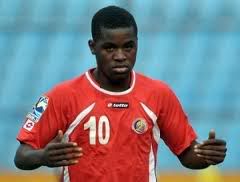 Joel Campbell needs to eat a couple of extra meals a day
Arsene Wenger looked at the same historic results that I did and wisely decided not to do a single, damn thing about it. You know, he bought some slightly built young players (19-year old Costa Rican striker Joel Campbell, who I actually think will be very, very good eventually, and Ivorian Gervinho, who is a slight 5'10"), was rumored to want to buy an even younger and smaller player (Juan Mata), and had made no real effort to find an actual left back. Rumors are that he is also looking at Phil Jagielka (oh please, let's overpay for an overrated English center-half, really) and the giant Chris Samba (I would love for this to happen but it won't), but neither of those deals has yet come to fruition.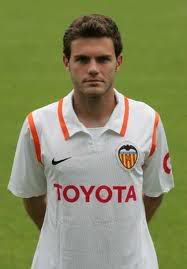 All 5'6" of Juan Mata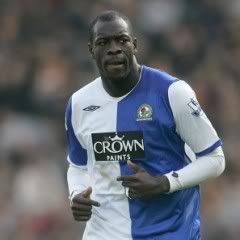 Christopher Samba is a giant
In the meantime, both Fabregas and Nasri are unsettled, Clichy was sold on to Man City, Arshavin is supposedly less fat and lazy (we'll see – he still has the best player website of all-time: http://www.arshavin.eu/en/news.php?id=517 ), and Bendtner (you know, the only striker we have who will head the ball) is supposedly on his way to Spain (how he is not going to the Bundesliga, where he would destroy and his style of play fits perfectly, I do not know).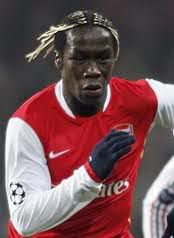 Bacary Sagna has great hair
In other words, it is entirely possible that Arsenal could begin next season with Van Persie alone up top, Arshavin playing wide left (though he'll actually crowd in and make sure we have no real width), Rosicky's corpse playing in front of Wilshere and Song in the middle, Walcott wide right (where he can deftly push the ball too far in front of himself and run out of bounds or, occasionally, cross the ball to no one, poorly), with Vermalean and a pu-pu platter of too many consonants at center half, Kieran Gibbs a left back (ouch) and the colorful weave of Bacary Sagna at right back. Gervinho is first off the bench up front, Vela out wide. That is not a top 4 side. Not even close, even if you assume we live in fantasy land where Rosicky and Van Persie do not each miss half the season with injury. This is a dire future.
I do not know what is more frustrating, Wenger's refusal to spend money on the right kind of player or his refusal to alter his system. You cannot just randomly throw 5'7" players all over the field because they are the best dribblers in practice. Nor can you rely on outside backs for all of your width if they cannot hit the broadside of a barn with crosses. Nor can you play with two defensive midfielders and two center backs and still expect to score goals with a patient build-up style of play (this basically only works if you have Shiva the Destroyer playing forward, a/k/a the Prince of Darkness, a/k/a Didier Drogba). Oh, also, the single striker things really only works if you have someone else in the side who can reliably chip in double-figures on goals to play off of him (RVP is a true hero, and the most effective player in the squad, but he needs help). Nevertheless, I can assure you that Arsenal will make all of these errors tactically in every match, just as it has since the Invincibles left. Henry and Vierra can cover up a lot, it turns out.
That's the thing for me. Even if we buy both Samba and Jagielka, and Gervinho is a smaller version of Drogba, and Mata turns out to be a tougher version of Fabregas, I still don't think we'll get better results. Because I have no faith that Wenger can adjust his system to the talent he has to work with. And I have lost faith in Wenger's system. It's all wrong for the Premier League, which places a huge premium on strength, aerial ability, speed, defensive organization, finishing, quick counter-attacking, and the resilience to survive shocking tackles from shaved head thugs (looking at you Ryan Shawcross). Wenger stubbornly refuses to add any of these valuable attributes to the team. He just wants to upgrade individuals within a doomed system. This is like finding better horses for your cavalry to ride into battle against machine guns. It makes no sense.
I hate to say this, and I hope I'm wrong, but I do not think Arsenal will finish in the top 4 this year. I think Liverpool will pass them up (Suarez will be monstrous this year), and I do not think they can hang with either Manchester club or the evil Chelsea empire.