It's a root canal. A busted powerball ticket. A foreclosed pawn shop. Broken railroad ties and flat soda pop. It's Leaky air conditioners, all you can eat buffets. 20 degree darkness in the middle of the day. It's a traveling circus stop, it's a long way away. It's the smaller brother. It's cancer, it's trouble. It's a giant killer that eats shoe leather steak. It's Black Magic baby and it can't catch a break. ~ Anonymous / © BC Archives
Clearly the author was referring to a day in the life in Manhattan, Kansas.
Manhattan's most famous attraction: Turtle Creek Dam. High Season.
If you've never been to this little paradise called the Little Apple, it's hard to describe compared to some of our preferred getaways like the Costa Del Sol, Tenerife, or the Seychelles; places we've already taken you to in the Virtual Hot Tang Time Machine.
But Manhattan belongs in a completely different classification of destination, right along with Rwanda, Death Valley, Pyongyang, and Fallujah. You should instantly be wary of any place that you can buy a 5 BR, 3,500 square foot house for less than $200K. Or clothiers that only sell pants with elastic waist bands. And restaurants with only a buffet option.
While we're listing some of the world's most unfortunate cities, we would be loathe not to mention that The Lil' Apple sits atop Barking Carnival's Forsaken List of College Road Trips. Fayetteville, Starkville, Lubbock, College Station, and West Lafayette have all submitted desperate appeals for reconsideration, knowing what kind of publicity that inclusion on this list can bring.
Save yourself the trip to Kansas and just inhale some industrial pollution, lick a meth-coated razor blade, cut one of your less important fingers off with a scythe, or just plunge naked into a frozen river. THIS IS MANHATTAN! Taking all this into account, there's no other conclusion that can be drawn to describe the unlikely success of the Kansas State Wildcats in such a godforsaken location other than...
THE GREY WIZARD PRACTICES BLACK MAGIC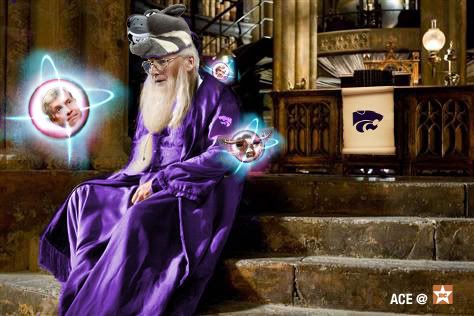 "
How else to explain K. State's domination over the University of Texas?
By all rights, Bill Snyder shouldn't still be coaching. Most of us are amazed he's even alive. When the Grey Wizard goes on his annual recruiting pilgrimages to America's finest community colleges, recruits feel like they're talking to the great grandfather they never knew in life. A few months later, they're moving to Manhattan with a new lease on life. And an '88 Trans Am.
Snyder is just getting started on Act II after un-retiring in 2008, forcing out the sideline dancing bobblehead that was Ron Prince.
http://www.youtube.com/watch?v=rJABCXZUbzM
Beating Texas isn't enough to keep your job anymore...
Most college football fans probably don't remember the Wildcat State of the Union circa late 80's and the mire of shit Snyder extracted the program from so let's quickly recap.
Act 1 began in 1989 and Snyder couldn't have been more pleased to take over a team that hadn't won a game since 1986 and churned through four coaches in five years.
There is only one school in the nation that has lost 500 games," said Snyder. "This is it, and I get to coach it. "
This is a telling quote from one crazy bastard - a crazy bastard that would quickly resurrect what was essentially a backwoods two year trade school into a competitive Division 1A football program in short time. After 93 years of playing football the Wildcats' record was 299-509-41 -- dead last among the 106 schools in Division I-A and more than 50 losses ahead of next-closest offender Wake Forest. Yet Snyder relished the opportunity, fleeing his job as Offensive Coordinator at Iowa to take over a team that ranked last in total offense and defense since 1950. The Wildcats only had four winnings seasons in since World War II.
Former KSU coach Vince Gibson summarized it pretty well:
"They have no players, and they have no money. Still, I have such good memories of being at K-State—and I'm so glad I'm not still there. I tell you, every day there is a catastrophe."
Over the next 16 years, Snyder won 136 games, more wins than the team had from 1935 to 1988. Snyder took his team to eleven consecutive bowl games (1993 to 2003), went 44-7 from 1997-2000, finished in the top 10 six times, and was named AP coach of the year 1998. The Wildcats won the Big 12 title in 2003, destroying favorite Oklahoma 35-7 at Arrowhead Stadium behind the legs of Darren Sproles and Ell Roberson.

Did someone say "behind the legs of Darren Sproles?"
Fast forward to 2009, the beginning of Snyder's second act. Forbes had recently ranked Manhattan, Kansas as the #1 city for young retirees. Having missed his window, Snyder went back to work just a month before his 70th birthday, signing a 5 yr. $10 million deal to recharge the Purple Menace. Cialis sponsored the press conference and K. State fans all walked away invigorated.
The Wildcats got off to a limp start in Act II, going 6-6 in 2009 and 7-5 in 2010 before losing to Syracuse in the Pinstripe Bowl. But Snyder hadn't lost his Bevo voodoo doll tricks; the Cats beat Texas 39-14 on five Garrett Gilbert turnovers. The Grey Wizard only called four passing plays the entire game, a pre-game tip he credited to the ghost of long-deceased black magic practitioner Neite Decimus Tel. Google him and he will possess your computer, taking you to illicit porn sites. Try it!
Five pins, Five picks
Offense
RB Daniel Thomas, a chiseled 6'1 225 lb specimen, led the Big 12 in carries and rushing yards two years in a row out of junior college, with a league-best 19 touchdowns last year and 13 career 100-yard games. I plan on taking him in the sixth round of all three of my upcoming fantasy drafts even if Adrian Peterson is still available. In the win over Texas, he Plinko'd through the front seven then pulled away from Texas DBs like they were strip mall cops pursuing on a Segway. Blake Gideon showed up a few minutes later to offer a sworn statement.
What can the Browns do for you?
It's hard to imagine someone surpassing Thomas' production, but incoming Tennessee transfer Bryce Brown has a shot. He's also just as likely to get shot before seeing the field. Problem children Bryce and older brother Arthur, who transferred from Tennessee and Miami, respectively, are the state of Kansas's first five-star recruits. Arthur spent two seasons getting wined and dined by handler Brian Butler and Canes jailbird pimp Nevin Shapiro before Snyder convinced him it might be a good time to come back home. Never mind the 17 total tackles in two years, Arthur, we have a place for you in Manhattan. Now come try some of Mrs. Snyder's hot turkey stew.
Now cloistered in a city with absolutely nothing to do, the Brown brothers have kept their noses clean and, to the dismay of backups John Hubert and Robert Rose, Bryce has already earned the starting job at RB. Some teammates weren't happy that Bryce worked out by himself over the off-season instead of with teammates but these frivolous concerns don't bother Snyder. He found a way to keep Michael Bishop eligible and motivated and he'll do the same for the Browns. One of these guys is your Big 12 Newcomer of the year.
At Wide Receiver, the Cats will line up returning speedster Tramaine Thompson out wide and Brodrick Smith in the slot. Snyder converted former Oregon Ducks QB Chris Harper to WR and he's moved up the depth chart by giving dudes ahead of him free Nikes. Keep an eye on incoming freshman Tyler Lockett, nephew of former K. State badass Aaron Lockett, and son of Kevin Lockett, the team's all-time leader in receiving yards. It would be nice if Mack Brown can make an agreement with his staff right now to never, ever, nevernevernever, EVAR!!111! punt to this kid under any circumstances. Ever.
At OG, you have Keenan Taylor (6-4, 278, So.) on the left and future WWA star Colten Freeze (6-4, 301, Sr.) on the right side, replacing the departed Wade Weibert, Zach Kendall, and Kenneth Mayfield. Two replace three - this is the unique model of Snyder efficiency. The strength of the line is at OT with returning starters Manase Foketi (6-5, 300, Sr.) and Clyde Aufner (6-6, 301, Sr.). Big Clyde could start for a lot of teams in the Big 12 and likes to watch Swedish guys pull tractors with their teeth on ESPN2 in his spare time.
Q: Why did K. State run the ball so much last year?
A: Carson Coffman was the returning starter at quarterback.
Coffman's signature move
In case you missed his horrific QB play for Kansas State in 2009, imagine Andy Kaufmann had he pursued football instead of wrestling, paired with the athleticism of Carson Daly, and you have the abject failure that was Carson Coffman. Collin Klein (who, ironically enough, did not attend Klein Collins) took over mid season and K. State was born again, both spiritually and physically. They rolled into Austin and claimed yet another victory over Texas like it was religious law. Klein carried 25 times for 127 yards and two touchdowns. He racked up 140 a week later at Mizzou on just 18 carries.
Expert in the dark arts, imo.
Still not convinced that Klein was his guy, during the offseason Snyder pursued former Michigan QB transfer Tate Forcier, hoping the majestic landscapes of Manhattan and weekly buffet discounts at Red Lobster would seal the deal. Forcier signed with San Diego State. He'll wake up one Tuesday this fall covered in snake skin. The Bill Snyder Curse, imo.
Backup QBs Justin Tuggle (Blinn JUCO via Boston College), Sam Lammur, DeAngelo Pease, and Daniel Sams round out Snyder's palette of future overachievers. I don't see a Josh Freeman in this bunch but you have to remember he arrived on campus with the upside of a speedeating contestant, sausage grease oozing from every pore. Offensive linemen were jealous that he could hide Snickers in his belly rolls. Of course Freeman went on to torture Longhorn fans, dietitians, and NFL scouts before they all gave up and accepted his fate as an NFL starter. More black magic at work here; no racist.
Defense (theoretically...)
The good news: the Cats return over 75% of their tackles from last season.
The bad news: 90% of those tackles were dudes getting dragged down the field after a 30 yard run.
Eight different teams rushed for more than 200 yards against K state last year, a few of them doubling that number, including a 450-yard, five-touchdown implosion against Nebraska. A few weeks later they gave up 300 yards rushing against a team of Clarinet majors from North Texas. K. State finished second-to-last in the Big 12 in total defense. Snyder blamed it on a failed chicken sacrifice before the Okie State game and apparently the bloodletting never stopped.
In a move that surely pissed off Ben Leber and Marc Simoneau, Arthur Brown was named captain without ever taking a snap and will get most of the attention at LB. But CB David Garrett is the most talented player on the entire roster. He had 92 tackles (68 solo), 15 tackles for loss (led the nation among all DBs), three sacks and intercepted one pass. He also recovered a fumble, forced a fumble and broke up nine passes. Any dude nicknamed "Rat" can start for my team. Only 5'8 175 but will hit you in eight places at once, Bob Sanders style.
The DL has a solid starting line of Meshak "f Abednigo!" Williams, Jordan Voelker, Raphael Guidry and Ray Kibble. A few visits to the Papa Legba Performance Lab should have these guys playing at an All-Conference level by midseason. Snyder raided some of his preferred JUCO haunts for depth along the DL, reeling in Darryl Blackmon (6-8, 275, City College of San Francisco), Bo Tillman (6-6, 275, Copiah-Lincoln CC) and Vai Lutui (6-2, 280, Mt. San Antonio CC). Yes, apparently there is a mountain in San Antonio.
Special Teams is Special
Tramaine Thompson and Bryce Brown are potential weapons in the return game. Expect to see Lockett get in the mix and fulfill his genetic promise of running back kicks against Texas, even when we don't kick to him. This is a divine order. The ghost of Martin Gramatica has not yet arrived on campus so Anthony Cantele will have to do in the meantime.
Ryan Doerr will be punting. A lot.
Schedule
The middle of the schedule offers a brutal stretch where you try to find a winnable game. You can usually find a few FCS trade schools on Kansas State's schedule as an homage to its roots as an FCS trade school. But the Cats are actually playing a big boy football schedule this year after two early layups against Eastern Kentucky and Kent State.
9/24 @ Miami
Even with the Canes blanketed by NCAA suits, the Brown brothers will not be able to resist the temptation that is South Beach and could very likely go missing for a few weeks. Just as long as they're back in time for the OU game, Snyder will be lenient.
10/1 vs Baylor
Bill Snyder Family Stadium is welcoming to all. Except Baptists. And premature Heisman contenders from Waco. Upset win.
10/8 vs Mizzou
Coming out party for James Franklin. Michael Bishop nods reluctantly in approval. Loss.
10/15 at Tech
Death by 1,000 tortilla slices.
10/22 at Kansas
Win against in-state rival temporarily puts some teeth back in Wildkitty.
10/29 vs OU
Panamanian prison raping. Starting 22 exit the stadium toofless, head to Snyder Family Dental.
11/5 at Okie State
White collar prison raping.
11/12 vs. A&M
One of those games that makes College Station livestock nervous. Potential upset as Ags get increasingly distracted by premature house hunting in SEC country.
11/19 at Texas
Guaranteed win until life-size Bevo voodoo doll is found, consumed, and excreted by Taylor Bible into Jester Dorm plumbing, never to be seen again.
7-5ish.
In just the past year, the Big 12 has lost three teams to other conferences but Grey Wizard would have been at the top of my list to send packing. When our conference inevitably unravels in a few years, Texas fans will rejoice when K. State joins the Mountain West. By then, Bill Snyder will have retired to his second home far away from Manhattan, Kansas.
Act III: REINCARNATION