Only after disaster can we be resurrected. It's only after you've lost everything, that you're free to do anything. - Tyler Durden, Fight Club
The Kurgan and Def Leppard agree
If you're going to decline, it's best to hit rock bottom quickly.
Wake up in a strange motel room with your wallet gone, car smoldering in the parking lot, a fresh tattoo of the Chinese word for crisis (it means opportunity too!) covering your upper back, blood on your shoes (not your own), the wailing of an angry hooker locked in your bathroom, and a DEA agent at the foot of your bed reciting Miranda. Rights. Not quoting the bitchy redhead from Sex in The City. Your mouth is cotton, your cologne is Jim Beam, the accent on your voicemail is pissed off Colombian, and the bag of white on your nightstand may not be Sweet N Lo.
This is what the Texas Longhorns did last year.
A blowout loss to 4-8 UCLA. A loss to Iowa St in DKR. Manhandled by Baylor. Quit against K-State. Finished last in the division.
It was a good thing. Wait, a good thing?
Yes. The humiliation engaged Mack Brown's deeper survival instincts. It cleanly scalpeled his ability to rationalize program complacency away. A 7-5 record would have been framed as a fluke. Position coaches would have been sacrificed before coordinators. Recruits would have fled. The Longhorn fan base would have split into warring camps and we would have had two or three more years of internecine bloodbaths and hopeless Bowdenian decline. But last year's debacle wouldn't allow that.
We'll look back on 5-7 as a blessing. If you want to break into the chorus of Garth Brooks' Unanswered Prayers right now, I'll wait.
Though Muschamp left for greener swamps, Mack turned day-to-day operations of the team over to three guys under the age of 40 - a salsa instructor, an Idaho survivalist, and a masochistic ginger cult hero - who did things like create, think, and debate - and whose film sessions resembled the construction sequence in every episode of the A-Team; hired a S&C coach who doesn't conduct work outs by post-it note; and brought in an OL coach who will recruit outside the geographic confines of his radio pre-sets. Throw in coaching studs at DL and WR and Texas is back in business.
These are the New Texas Longhorns. A re-imagining of an old classic.
Defense
Now, I want to talk about a serious issue. The Racisms.
Senior safety Blake Gideon forces us all to confront the uncomfortable societal issue of Caucasians in the defensive backfield. Sing it with me: We're here! We lack a gear! We're not going a-way! He's a mental All-American but some fans consider him a physical Special Olympian. That's silly. Blake would dominate the Special Olympics like Jesse Owens in Munich Berlin. Because the internet cannot comprehend the concept of average (everything is either amazing or it sucks) Gideon has become a gridiron Rorschach. His experience (39 starts) will benefit this unit in ways comparable to 2008. In 2011, I expect him to mentally make 9 interceptions and 103 tackles. Physically: 3 interceptions and 61 tackles, though.
I hope you like Kirk Cameron, because at CB we've got Growing Pains.
Left Behind series reference also appropriate here
True freshman Quandre Diggs is listed at 5-10 in the same hopeful way that Tom Cruise is, but, due to his vertical, he doesn't have to stand on an apple crate to kiss Nicole Kidman.
With respect to stature, Bushwick Bill of The Geto Boys once mused, "Lifting weights will make you bigga, but lift me, you'll be a dead-ass REDACTED."
No one tosses this dwarf because he's a 200 pound Bad Mamma Cousin Of Jamma. Sophomore Carrington Byndom sounds like Clipper Cooper's best friend, but he's a heady cornerback with a Taje Allen vibe. Still, you can't start a true freshman and a sophomore at cornerback against bullies Jeff Fuller, Ryan Broyles, and Justin Blackmon without losing your allowance by the bike racks.
No one will bully our best DB safety Kenny Vaccaro. He's basically the Tasmanian Devil, but he won't fall for Bugs Bunny dressing up like a showgirl and leading him through an elaborate prank involving dynamite and a birthday cake. I'm not saying he's aggressive, but Sally Brown has lost three sliding glass doors and a full length hall mirror because Kenny thought his twin was challenging him. Point Vaccaro at a target, take off the genital cuffs, and pray that he doesn't double back on you:
Manny Diaz: "Not master, Kenny. No. No. Do not attack master! Tranq gun! Tranq gun!"
Yo, Adrian Phillips may have cost himself a starting job by being good at everything and will serve as the de facto back-up for every starting DB and 2nd chair sousaphone in the Longhorn band. Because of his ability to play multiple positions, think of him as half of Chris Hall running the 40 in half the time.
This LB unit is the most talented we've seen in almost three decades (this sounds more impressive than it is), however our only true MLB is a freshman.
I believe that the Achos represent the highest possible attainment of human potential, much like Oprah and L Ron Hubbard. Like elder brother Sam, Emmanuel is a polite, whip-smart physical specimen who will punish a running back, help an old lady across the street, and can speak authoritatively on the folly of Keynesian stimulus. He has a great first step and a knack for run blitzing.
Keenan Robinson Wayans is a hell of an athlete. He's not a true MLB, but he does a pretty passable imitation and takes deeper drops than LSD-laced Visine. We need this surefire NFLer to be more reliable between the tackles, but he covers space like the Starship Enterprise.
Jordan Hicks may prove to be the most gifted LB in the group and our backups here (Cobbs, Edmond, Benson) are strong. One of the few positions on defense where our depth borders on Proustian.
Kheeston Randall's health is crucial and he's kept in plastic bubble wrap until Saturdays. Bo Davis has a baby monitor in Randall's dorm room. Randall gets great leverage for a 6-5 DT and he'll excel in Diaz's penetrating schemes. The rest of the DTs are a wave of bodies, each with a specialization. Desmond Jackson is the best dancer, Greg Daniels can pull off a sleeveless vest look, Calvin Howell is a potent conversationalist, Ashton Dorsey has the best calligraphy, and Chris Taylor Bible-Whaley is the most feared at Conan's lunch buffet.
DE should be a team strength. Alex Okafor is drawing raves now that he's back at his natural position. He may be the most accomplished Pflugervillian since town founder Erasmus J Pfluger's whittled likeness of President Chester A. Arthur took 3rd place at the Mothers of Pioneers Fight Back Against Syphilis Expo. Jackson Jeffcoat will drape himself on QBs, and raw athlete Reggie Wilson is DE #3.
Offense
Gilbert demonstrates pocket presence!
QB has been discussed ad nauseam. Gilbert is your starter until he isn't. Game action will settle that soon enough. He'll play with a short leash, choke collar, and a Discount Laser Surgery Groupon. Chase McCoy is the Blake Gideon of the passing game and David Ash should retire now as 12,000 career passing yards and a Heisman would only diminish his current legacy.

My perfect Saturday? B&B, antiquing, 205 yards rushing.
At RB, we no longer have to read Longhorn fans arguing the merits of Tre Newton over Vondrell McGee (as sadly amusing as Better City - Dallas vs Houston? debates) and they'll run in schemes that aren't a steady trickle of whiz on the grave of Vince Lombardi. The B&B boys - freshmen Bergeron and Brown - are serving up a hot Saturday breakfast of crisped LBs and pancaked DBs, Donald Junior will have his packages, Fozzy Whittaker just pulled his hamstring watching Netflix, and Cody Johnson has been doing P90X and finally accepted that he's a FB.
The OL will benefit from schemes that aren't designed by Ponzi and a position coach that throws wet chaw at lollygaggers. Dominic Espinosa securing Center is helpful and talented Trey Hopkins is the 2nd most valuable player on the entire team. Mason Walters should bloom like whatever plant that when it blooms can bench press 500 pounds and Tray Allen will show his stuff as a run-blocker while receiving help in pass protection. Speaking of, Bible asked to move to OT because he heard they get tons of chips from the tight ends. Sigh. Chip blocks, Taylor. Snow should be a reliable senior.
Beyond the OL starters, we have depth roughly comparable to a thimble dumped into a Saharan bird bath. Our backups are Adrian Phillips, David Ash running the special OT package, a kid with a pituitary condition we found hanging out near Welch Hall, and Bennie Wylie in an inflatable sumo suit.
Tight end and H-back will be manned by committee, but Dominique Jones' keen progress towards his general studies degree means we have a blocker in the running game, DJ Grant doesn't have any more knees to blow out, and Blaine Irby's first reception will be more emotional than a sign language gorilla hugging a kitten.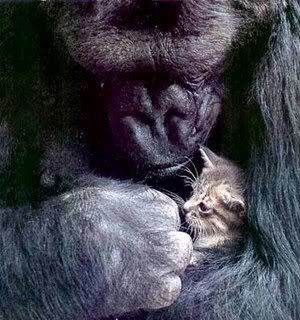 SO ADORABLE!
Wide receiver is young. Every one of them has seen Twilight. Sophomores Mike Davis and Darius White are our grizzled veterans. John Harris is a big body reliable, nifty Jaxon Shipley will become a fan favorite, and Miles Onyegbule will do all of the stuff that John Harris does but taller. DeSean Hales will be in the mix as a back-up and in some special package plays. This is a talented, absurdly inexperienced group that will drop easy balls, make sensational plays, and generally operate with the beta of an Albanian penny stock.
Longhorn Schedule
There's not a team on our schedule we can't beat. Unfortunately, there are nine teams on our schedule that can beat us. Let's go through them together.
Rice On the first day of prison, they say to find the toughest SOB in the yard and punch him in the back of the head. I'd prefer to beat up a fat guy with asthma in the prison library. Hello, Owls!
BYU Jake will test our secondary Heaps, Harsin will try his schemes against savage Pacific atoll cannibals, and our linemen will take on 26 year olds who have been married for nine years.
@ UCLA What's more insulting - being owned by them or that they don't even care?
@ Iowa St This time it's personal. I may take the five connecting flights to get there. Canada is a very beautiful country.
Oklahoma We win if we score more points. SIMPLE GAME FELLAS. Shakes head clear. Realizes briefly possessed by Dan Dierdorf.
Oklahoma St Nervous conversation before game, "Who has Blackmon?" Response: "Not dis white mon."
Kansas "Ma'am? If you want to take my arm, I can help you over here to 3-9. You're welcome."
Texas Tech Tuberville: "Take this tape measure, Seth Doege. Stand on Scott Smith's shoulders. Now see boys - these field goal posts are the same height as in Lubbock." Doege: "Actually coach, I've got an extra inch and a half here." Tuberville: "Goddamnit Doege, I'm trying to make a fucking point."
@ Missouri Can a school ever break through to the big time when they still elect Homecoming Courts?
Kansas St Oh, them. LOSS.
@ Texas A&M Byrne hires a plane to fly over BatLocust field trailing maroon banner reading SEC! SEC! SEC! As Aggies attempt chip shot game winning field goal with :01 left on the clock, banner detaches from plane, plummets, and catches winning kick in its folds before it can split the uprights. Traumatized stadium remembers that they are Aggies and that this is what they signed up for in life. SEC announces replacement of A&M with Yale.
@ Baylor RGIII lights up Texas for 21 first half points, but hurts knee when maroon wind-blown SEC! banner borne on a westerly snares him at the 30. Baylor fans remember that this is what they signed up for in life. Conference USA announces replacement of Bears with additional bye week.
Conclusion
I'm excited about this season. The Horns will be ridiculously young (12 underclassmen starting), will make plenty of mistakes, and can't afford injury, but they're going to play good schematic football and play hard. We're standing at the bottom of the Grand Canyon. Hiking out will be tough, but the view at the top will be all the more rewarding for having suffered.
Let's cinch our packs, quit worrying about the distance, and start walking.
Hook 'em.