The Sooners under Bob Stoops have made their hay with an aggressive, quick strike offense and physical defense that exploits known tendencies -- a combo that has led to some humiliating final scores. The offense has gone further in this direction since Kevin Wilson and Josh Heupel installed the no-huddle but they've always been about play-action bombs and systems that protect the QB from making critical analysis after the snap.
A Scipio already typed, their defense is a tendency-attacking monster that specifically thrives when the back 7 is loaded with playmakers and ball hawks. Their 2000 defense, an absolutely dominant unit, was not especially overwhelming in the trenches but the way guys like Strait, Roy Williams, and Rocky Calmus attacked you led to timely defense and turnovers.
They are designed to build a quick lead and then converge on your route tendencies and your QB with blitzes and smart, aggressive play from pattern-read coverages. If they can play you with their nickel Cover-2 and bring zone-blitzes on 3rd and long they can really punish you. Their current crop of back 7 defenders isn't big - they all weight in under 240 - but they're rarely out of position and tackle well. The Sooner D has already knocked five offensive players out of a game this season. The one liability Harsin will no doubt attack is the questional coverage ability of OU's LBs and safeties. Similarly, if you can get a good seal block at the second level on these guys, the Texas RBs can have some success.
Stoops made his name at Kansas St. with Snyder running a particular variation of your 3-deep, 8 man front that revolved around attacking you inside with aggressive safety help and fast-flowing linebacker play. That's translated to the spread game with their Roy-backer/Sam linebacker Cover-2 which aggressively assaults your perimeter passing game and looks for turnovers and QB hits. They've kept moving in that direction by fielding a fast, undersized back 7 that clean up plays quickly.
Their offense isn't particularly physical, though they have some very solid talent at TE and FB, and when their running game looks good it's usually because the front 7 isn't lined up correctly, not because they are trucking positioned defenders. In the passing game, Landry generally knows where he wants to go with the ball and his eyes don't lie. The trouble is that covering Broyles and Stills is immensely difficult and he can beat good coverage all over the field.
That's as unflattering a picture as I can paint of this team. I think that Alabama or LSU would take them apart in the National Championship if it comes to it, but as satisfying as that might be the real question is whether Texas can do it.
Since Stoops/Venables specialize in attacking your base concepts and relying on their speed to apply constraints, the best way to attack them is with concepts that can reliably attack them at multiple points. Go watch tape of the 2008 game and you'll see that even with Shipley flexed out as a mini-TE and 4/5 WR formations that their back 7 still knew where Colt was going with the ball and were within inches of pick sixes on multiple occasions. Colt made plays, Quan worked magic, and they couldn't really cover Shipley. Fast forward to 2009, they take Shipley away with such impudent schemes and techniques that we are able to run the ball for over 100 yards with one of the worst running games in the school's history. OU didn't care, they knew we didn't know how to win that way and it was only by a defensive miracle that we won.
Harsin, however, isn't looking to create the best matchups and then execute them against your best effort. His base concepts do apply pressure at multiple parts of the field. The inside-zone/sweep play is designed to punish a fast, aggressive defense with a tendency to overplay. Flow quickly to the zone and you have to try and change direction and beat Monroe in a footrace. Hesitate in dealing with the zone and the F=MA equation begins to trend against you as you approach the tackling of Malcolm Brown.
That said, OU can still employ an 8-man front like ISU did and perhaps respect Shipley/Davis more with their corner's drops and ask us to beat them by banging our head against their 8 men and throwing hitches and short against a physical back 7. We need to test them early in the passing game and keep a clean pocket to throw the ball because a pump-fake could be worth 6 points. Other than that, we should welcome the challenge to pound the ball for 4 quarters. Who wins the LOS in the 4th quarter usually wins this game.
In the passing game, Case plays with a certain confidence that you can't help but feel is completely unfounded and his self-sack against Iowa St. probably kept Harsin awake with nightmares about Ronnel Lewis until he decided to just play the freshman. Colt got away with his footwork until he faced Ndamukong Suh without more than 1 reliable receiver. Case isn't that athletic and I think Lewis is more than athletic enough to instill that same lesson. This is why the Cigar is telling us that Ash may get his shot to take over this weekend. If he runs with it, he'll have earned his job in extreme contrast to how Gilbert begun his career here.
Now, for all the talk about the youth on this team I have the following counter-punch:
Emmanuel Acho, Keenan Robinson, Kheeston Randall, Kenny Vaccaro, and Alex Okafor are all upperclassmen who could be playing in the NFL next season. Blake Gideon is a 4 year starter. Which basket do you think we should place our eggs in?
OU's offense is considered an elite unit and our defense needs to take them on and decisively win that matchup for us to get this upset.
In Michael Holley's "Patriot Reign", which includes Belichik's line about swagger that Scipio has been quoting, we get a glimpse into how they approach a defense of "the greatest show on turf", the 2001 St. Louis Rams. After blitzing Kurt Warner in the regular season and getting smoked, Belichek determines that the way to throw a spoke in the wheel of the Ram machine was to take away Marshall Faulk rather than assaulting Warner. So they would jam him at the line with their ends before pursuing Warner, prevent a clean release to areas of the field where he could not be covered, and attempted to always make Warner check to option no. 2.
Allow me to introduce some stats from the Sooner's first 4 games: Landry threw for 9.3 yards per attempt against Missouri while Broyles caught 13 balls for 154 yards. Jones had 12.9 yards per attempt against Ball St. with Broyles pulling in 4 catches for 109 yards. Against Tulsa, Jones completed 8 yards per pass while Broyles had 14 receptions and 158 yards.
Florida St. held Broyles to 55 yards on 7 catches and Landry had only 7.4 yards per attempt and 2 interceptions.
They won that game due to defensive excellence and a few very impressive catches by Stills. And because they knocked Emanuel out of the game. They still run the ball a lot to set up their play-action but it's effectiveness is a mirage. We can't fall for it.
How would you defend the Sooner offense? Personally, I would line up Adrian Phillips against Broyles in the slot so you have someone that can get physical with him underneath and in the screen game. In the instance of Fire-Zones, play Vaccaro over the top of him and punish him quickly on any receptions over the middle of the field ... asuming you can get a clean hit. Broyles is a bitch in space. If they are willing to ask him to lay his body out 5-8 times with Kenny the Maccabee lying in wait we should welcome that strategy.
Diaz's system is possibly ideal for handling the Sooner attack in the following regards: He knows how to get his guys lined up and they can do so quickly (have been practicing it all year), their assignments are pretty simple and thus execution based, and he regards his Fire Zones as being as safe or base as anything else he runs.
The last point is crucial, because our ability to have automatic Fire Zone calls against their hurry-up without getting brutalized by their screen or passing game, is going to take away their crutch: Landry's pre-snap certainty.
Take the following play as an example: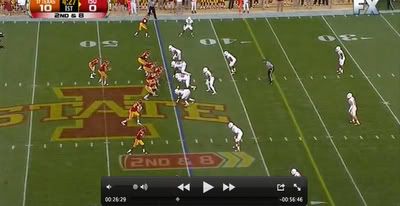 Iowa St. is lined up in a trips formation to the field side and we come out with a Cover-2 look although we can already see Acho and Gideon creeping a little closer.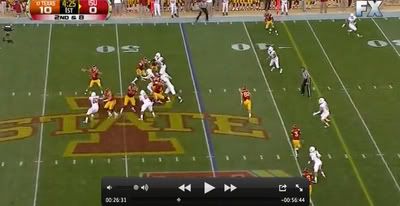 Fire Zone! The corners and boundary safety are the 3 deep defenders, Gideon's assignment is Hot 3, which is not somewhere you would expect to find him and a role that would be filled in base Cover-3 by an inside linebacker. He reads Steele's blues and voila, INT and almost a pick six.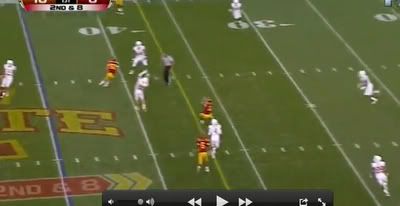 Interception returned 43 yards like he was back at Leander running the zone-read against Cedar Park.
The rule for our 6 pass defenders in the Fire Zones against Landry should be as follows:
1). Deep defenders MUST stay on top of Stills and Broyles.
2). Hot defenders should watch Landry Jones eyes, because they don't lie.
3). Bracket Broyles whenever possible.
I expect to see a lot of looks deployed to confuse the Sooners and hide where the ball should go. 3-4 defense with Hicks, Acho, Robinson, and Cobbs all in the game is an option that provides some dangerous blitzes while presenting a lot of tacklers who wrap up, and underneath defenders who can take deeper drops than Jones is used to facing.
Some Man looks and 7 or 8 pass defender looks will come into play as we seek to confuse Landry and create opportunities where he finds a Blake Gideon or blitzer where he expected to find Broyles or a checkdown. It's more than possible that he might channel Romo while in Dallas if we encourage him with some hits and disguises. His tendency and ability to beat coverage with his arm can backfire if we make him do so repeatedly against the likes of Hicks and Robinson.
So there you go -- screw their running game, pound Broyles and Landry both mentally and physically, and make them earn their way down the field. If we can get 2-3 turnovers that kill better Sooner drives or present scoring opportunities, then our ground game and gadgets could be enough to manufacture winning offense.
That's how we win. If you aren't seeing Red Zone stops and turnovers when OU has the ball you could be looking at a long game. But if you are, we take them down like Georges St. Pierre and pound them for 5 rounds and come out with the belt.