I am ecstatic about that win, not because I care so much about beating TAMU as a thing itself, but because listening to their cud-chewing fans low about a win would have driven me to a Hormel meatpacking plant-type rampage. 27 - 25 works for me. So long suckers.
Those overall wearing, cousin-kissing (but welcome West Virginia!), juvenile nicknaming members of the fascist youth brigade now have nothing left to discuss about the game other than their hilarious efforts to find the right span of years within which somehow they have equaled us in the series (they want to only count the years after they became coed for this purpose, but brag still of the actual football success they had in the 1930s) and how to get Dollar Bill to hire Urban Meyer.  Heh.  In the ear fellas, in the ear.

Some of you are going to have to share . . .
By the way, although I thought TAMU had the more talented team, I believed that we would win this game because I had previously peered deep into the soul of this aggie team and found it weak and wanting – like I predicted, they turned the ball over to us too much, caved in when it mattered, and we did just enough to win. They better find some grit before they go against the deep pockets of the SEC West. Yeah, I said it – I'm not going to pretend like anyone plays for Alabama because they like Tuscaloosa.
Anyhow, the heavy hitters will come on here soon enough and give you well thought out, dissective breakdowns by position and unit. I will give you my snap impressions from one viewing. Think of it as a stop-gap.
Defense:
I want to start positive. The best way to do that is to congratulate the seniors who really showed up and played their asses off, as they have all year. Kheeston Randall, Keenan Robinson, and Emmanuel Acho – thank you for the gift of this victory and for the sweat, blood, and leadership you have given this football team. Playing hard and leading, week in and out, while knowing that the end result of the game may not reflect the magnitude of your desire and effort can be deflating. These three have refused to deflate. In fact, I thought last night was Keenan's best game as a Longhorn – he was in the backfield whenever he wanted to be, making tackles off of the edge, and solid in coverage -- just like I thought the Missouri game was Acho's best. Randall has had so many solid games it's hard to choose, but he was a monster last night too. For me, these three guys are the ones that I will remember the most from this season (along with Foswhitt). They have my heartfelt gratitude and have been a real pleasure to watch.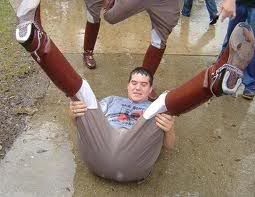 Whoopsies!
DL:
The defensive line was incredible last night. Everyone contributed and every contribution was notable. Offhand, I remember Whaley blowing up a sprintout by cutting back across the grain against a guard and pounding Tannehill after a quick release. I remember Reggie Wilson torturing Jake Matthews and getting into the backfield quickly. I remember Ashton Dorsey blowing up a play by splitting the guard and center. I remember Okafor destroying Luke Joeckel with outside speed rushes all day. I remember Desmond Jackson scoring a key sack when Tanneyhill broke the pocket as the result of outside pressure. I remember Calvin Howell chewing up and defecating out Cedric Ogbuehi on several occasions and playing a large role in Ogbuehi's ongoing personal foul meltdown. Jeffcoat I don't remember specifically, but our DEs were getting great pressure all day, so the oversight is unquestionably mine – I am sure he was dominant. Then, of course, the anchor, Kheeston Randall, just did what he always does – eat up space, get a good push up the middle, and generally free up the guys behind him.
This unit, which most of us considered a massive question mark coming into the season, has become a team strength. The depth and versatility we have up and down the D-Line is really a wonderful thing and it is going to make the LBs playing behind it look even better next year. Hat's off to the DL. Best game they have played all year collectively and everyone contributed. The constant disruptive force and accumulation of hits on Tanneyhill caused his wildness and kept the TAMU offense out of whack.
I give the DL an A+.
LBs:
I thought Robinson played incredibly well. He was called for a dumb penalty (that wasn't a horse-collar) and the bounced back the next play with a big tackle. He was dynamic blitzing, he tackled well, and he was solid in coverage. It's no coincidence that he had one of his best games this year during the best game our DL has played. Acho was his usual outstanding self. I think he is gradually playing himself into the 3rd round of the draft. He made a couple of nice tackles on Malena who is a difficult guy to wrangle (classic low center of gravity + decent burst back). I didn't notice Hicks much, so I will leave him to everyone else. I give the LBs, as a unit, an A.
CBs:
The cornerbacks were absolutely brilliant. Carrington Byndom has a name that would fit in at the Harvard Club in NY and the game to be a first round draft pick as an island cover corner. He gets the game ball. He covered Fuller like a blanket and Tannehill kept throwing at him – it didn't matter, Byndom was nails. If that was all he had done I might still give him the game ball. But it wasn't. His TAINT gave us just enough to win this game. Without him we wouldn't have. On top of that, it was an intuitive pick that displayed the kind of body control and awareness that cannot be taught but must be understood to play on Sundays. Just an outstanding game from him.
For a game ball, I offer some Warren Zevon:
http://www.youtube.com/watch?v=FHWmxCoTV3Y&feature=related
Quandre Diggs – I unjustly gave him grief about his kickoff returns. The he settled in and started to look like a slightly slower Darren Sproles on punt returns and proved me an ass, a designation I accept with gratitude under the circumstances. If he had better hands he might have had two more INTs, but his coverage was rock solid all night. This kid has grown immeasurably this year and it's hard to believe he is only a freshman. I love his heart, he is always emotionally in the game, and his technical coverage has improved dramatically. He's a gamer and he's getting better. Fantastic game from him and his punt return was one of the 3 key plays for me – the other two being Byndom's pick and Case's scramble – that were dispositive in the game.
Adrian Phillips – I didn't notice him much, which means he did his job well when he was in the game.
All in I give our CBs an A++. Incredible game, incredibly well played.
Safeties:
Kenny Vaccaro is a man. His interception was a stellar play. He shut Ryan Swopes down. He was everywhere he needed to be and continues to produce at a high level. I am not sure his speed will grade out at the level NFL scouts want, but his style of play and physicality will translate really well at the next level. I doubt he sticks around for his senior year, but he was a beast last night as he has been all year. He gets an A+.
Blake Gideon and Christian Scott were solid. Gideon made a nice play to try and deny Fuller the TD and wasn't exposed in coverage too often. Scott whiffed on Fuller, but otherwise played well. Blitzes with these guys are often ineffective as neither guy has the fluidity to get around blockers and make a blitz work, but they didn't hurt us last night and they helped stop the TAMU running game. I give them both B+s.
Averaged out, I give our safeties an A, mainly on the strength of Vaccaro's play.
Coaching:
TAMU's first drive had me worried. Flashes of Ok State, where we loaded up to stop the pass and got big runs popped on us. But fortunately Malena is not a homerun threat and Sherman got away from running it. When he did, Diaz looked like a genius. He was dialed in last night and you could feel his intensity through the airwaves. A big A for Manny.
Special Teams:
The only unit that grades out lower than the offense is our punting unit. 30-yard punts in a defensive field position game do not work. Tucker just cannot boom a punt. I have no idea why we keep making him try. Our inability to get any distance in kicks nearly cost us the game. This is a real problem. The only plus is that nothing was blocked. I give our punting a D.
Punt returns were better last night. Diggs was huge and had a couple of nice returns. TAMU was able to down a punt on the one yard line which could have cost us, but otherwise we were very solid. On the strength of Diggs return, I give our punt return team a B+.
Kickoff coverage was very good. Kickoff returns were slightly better than average. Bs all around.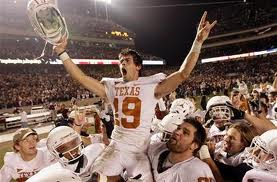 But hey -- clutch kick, for the win!
Coaching:
A D for the punts. Inexcusable, that.
Offense:
QB:
Case McCoy did not turn the ball over. He made one cross field throw that surprised me because I didn't think he had the arm strength to make it. He got no help from his WRs (more on that later) or TEs, but he didn't set the world on fire either. He had a couple of throws that could have been picked but weren't. His scramble at the end won us the game but he was carrying the ball way too loosely and we were fortunate not to get stripped. Still, he showed up when it mattered and he managed a putrid game without coughing it up. I give him a C+ on the strength of that scramble, which will become a thing of legend the longer we go without resuming the rivalry.
Ash didn't do anything except look very confused the one time we tried to leave him in the game two plays in a row. Just don't know with him.
RBs:
Not a good day for the running game. We could not get Monroe on the edge. Brown had tough sledding against a stacked and pissed off front all night. We didn't run the ball effectively at all. The only plus was the "WildTractor" which consists of Cody Johnson physically lifting three people and carrying them forward for 3 yards. It's not deceptive but it sure works. I give the RBs a C.
WRs:
These guys are not very good right now.
Shipley looked hobbled, but still bailed out Case on that back across the field throw. He wasn't a world beater, but he showed up last night and played hard.
Mike Davis is either injured or has regressed to a frightening degree. He is not making much of an effort and he is dropping the ball. He needs to spend the offseason in the weight room and he needs to recover his confidence. I hope he is salvageable. He had a couple of bad drops.
Onyegbule only had one catch that I saw, but the athleticism he showed on his ill-advised pass (which was a good play call and would have gone for a TD if Davis hadn't fallen down) leads me to believe that he will play a bigger role in the offense next year and that he may yet turn into a playmaker. Goodwin gave us a lot of effort and showed that he can be a good #3 slot guy, provided you have actual #1 and #2 WRs, which we don't.
I give the WRs a D-. Not good, at all. This unit has to seriously improve if we hope to have a legitimate offense next year.
TEs:
The less said the better. Irby's inexplicable toss-fumble was just weird. I don't get it. Grant dropped a very catchable pass. These guys get a fat F. That said, Barrett Matthews blocked pretty well when he was in last night. Not enough to make up for the unit's overall putridity though. This group has been a massive minus all year.
OL:
Tough to grade these guys. The effort was there. We got no push at the start of the game but TAMU was stacking the front. The thing is, when we cannot pass and we cannot get the edge running then we are forced to very predictably run it between the tackles. This lets the defense load up, which they did.
We got some momentum upfront in the beginning of the 4th quarter which was effectively killed by a bad delay of game penalty. The one where Walters got up in Case's grill. I guess he's Team David?
I actually thought the OL pass blocked better than they have, especially against a good TAMU pass rush. That said, DeRuyter was content to cover and not blitz, an understandable decision with our QB/WR position.
This may be controversial, but I give these guys a B. They weren't given much to work with.
Coaching:
Harsin/White gets an A for boiling bark and leaves into a nearly palatable paste, North Korea style. The trick play was awesome and was the only way we were going to score. We got put into some horrendous field positions and had to play conservatively. We gambled when we could and laid up when we had to. We made something from nothing. Well done boys.
Mack, well, it would be nice to have a glass-chewing speech before a rivalry game one of these days, but I know that ain't your bag.  Overall gameplan was sound, although dependent on some good fortune.  Whatever, we won, you can have a B.
Refereeing:
Aggies will complain about that last penalty but as we have recently learned there is zero tolerance for helmet to helmet.  It's going to draw the flag.  The penalty on Keenan for the jersey tug was awful.  On the third to last play of the game an Aggie horse-collared Cody Johnson and got away with it.  It was a physical and chippy game and I applaud the refs for trying to, and succeeding in, keeping it under control.  I give them a B.  They didn't influence the result.